"In the end, it's not the years in your life that count. It's the life in your years."
-Abraham Lincoln
We believe that every individual has value, at every age! Unfortunately, ageism in our culture can sometimes imply that we lose value over time; that we somehow contribute less to society. 
When you are healthy, you are the best version of yourself! This helps beat the negative stereotypes of aging, and positively affect everyone around you, especially the ones you love most!
We want to help you be your best! There are many things in this life that compete for our time. It can be a great challenge to make healthy choices a daily priority. Our role at Functional Fitness has been developed to do our part to make it as easy as possible for our clients to improve their physical fitness. We strive to limit or remove barriers like affordability, tight schedule, limited knowledge, and concerns about safety and injuries. We want healthy choices to be easy.
We use specialized equipment
We prioritize continued education
We support you in finding options that fit into your daily routine
Transforming our community
At Functional Fitness Orillia, we provide you with training, support, and education in your fitness program. Everyone has a different journey and we customize a program for your specific goals and needs. We get excited about positive change and love to see encouragement within our thriving and healthy community.
Images that we commonly see through fitness marketing illustrate that performance-based fitness is the optimal goal. While that can be true for some, the majority of us are not training for competition or even have athleticism in mind. We are simply wanting to get through each day moving pain-free, able to do our daily chores and with energy to spare.
The term 'functional fitness' actually means exercises that train your muscles to work together and prepare them for daily tasks by simulating common movements you might do at home, at work, or in sports. At Functional Fitness Orillia, individual programs are designed to include safe and gentle movements that improve your strength, endurance, flexibility, posture, and balance. Make no mistake, the goal is to improve your quality of movement and your overall level of fitness, but we can achieve this without pain or strain.
Crystal
Cabural
Fitness Instructor / Owner
Crystal is a trained physiotherapist assistant with over 15 years experience. She has worked in different capacities helping older adults maintain or improve their independence using a restorative care focus, primarily through fitness. With a heart to serve older adults and people living with disabilities in the community, she decided to open Functional Fitness Orillia in 2015 and is very grateful for the community of clients that continues to grow.
Aide-Physiothérapeute, Collège Boréal Sudbury

Neurogym FIT (Functional Independence Training) Instructor, Neurogym Rehabilitation

Bonefit Trained, Osteoporosis Canada
Urban Poling Activator for Rehabilitation Professionals, Urban Poling
Standard First Aid & CPR/AED Level C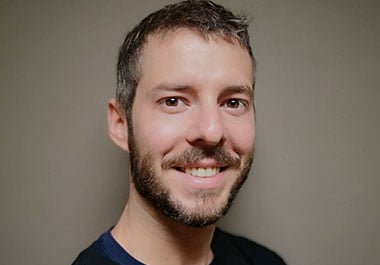 Thomas
Bialas
Fitness and Health Coordinator
Born and raised in Orillia, Thomas has strong ties to our sport and fitness community. He has several years of experience working with older adults with aging-associated diseases such as arthritis, osteoporosis, stroke, dementia, cancer, and cardiovascular disease. Thomas' passion is helping people through physical activity and encouraging a healthy lifestyle in a safe and fun way. He strives to support each of his clients through pain-free exercise programming so that they may confidently maintain independence and continue to improve, whatever your goals may be!
Honours Bachelor of Arts in Kinesiology & Physical Education, Wilfrid Laurier University

Neurogym FIT (Functional Independence Training) Instructor, Neurogym Rehabilitation

Low Back Pain Specialist, DTS Education

Bonefit Trained, Osteoporosis Canada

Multi-Sport Training Certification, NCCP

Urban Poling Activator for Rehabilitation Professionals, Urban Poling

Standard First Aid & CPR/AED Level C

Personal Training Specialist, canfitpro
Chris
Cabural
Trainer/Marketing Manager
With over 20+ years of work in a leadership role, and covering a variety of service industries, Chris's hands-on experience with marketing is extensive. In 2018, he took a leap to join the team at Functional Fitness and began to apply his skills in a new environment, handling social media activity, designing marketing material and applying SEO techniques to all digital content. The clients dedication has inspired him to expand his knowledge of health and fitness and is working towards achieving his Personal Training Certification. 
Urban Poling Activator for Rehabilitation Professionals, Urban Poling
Standard First Aid & CPR/AED Level C

Personal Training Specialist, canfitpro